Unified API Platform What It Is and Why Do You Need It?
Unified API Platform what it is: It is an abstraction layer that facilitates effective interactions between various APIs and underlying data models. Interconnection is the heart of today's information technology-dependent world. As enterprises are beginning to open up and integrate their work processes with the internet, developing a robust integration strategy has become vital. This is where Application Programming Interface (API) comes in. APIs act as worker bees behind every Internet contact, ensuring that data is transmitted efficiently between servers and users.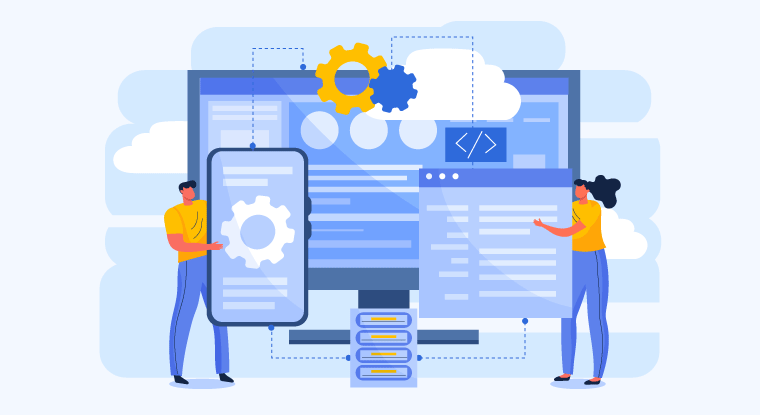 Therefore, businesses must choose to invest in the best end-to-end api management software to manage technological changes and keep operating costs under control.
There are several issues with one-time API integration. To begin, onboarding requires time and effort. You must do documentation research, learn HTTP methods, and deal with custom objects and fields. You must devise security measures, confirm that the API fulfills all criteria, test the API, and address any issues.
However, Unified API can solve this continuously rising complexity of connecting different systems. This can help you get a competitive advantage in the market by allowing you to use every tool of choice concurrently.
Unified API Platform What Is It?
A unified API is an abstraction layer that facilitates effective interactions between various APIs and underlying data models. They combine specific types of cloud-based software, offering a single endpoint for lead generation, banking, calendar, CRM, or email. A unified API, then, enables the user to view and access their resources on a single platform. This is accomplished by unified APIs, which greatly reduce redundancy by standardizing resources and data models within a single industry. Overall, a unified API's appeal lies in its capacity to offer a consistent API architecture and developer environment..
Why Is a Unified API Platform Needed?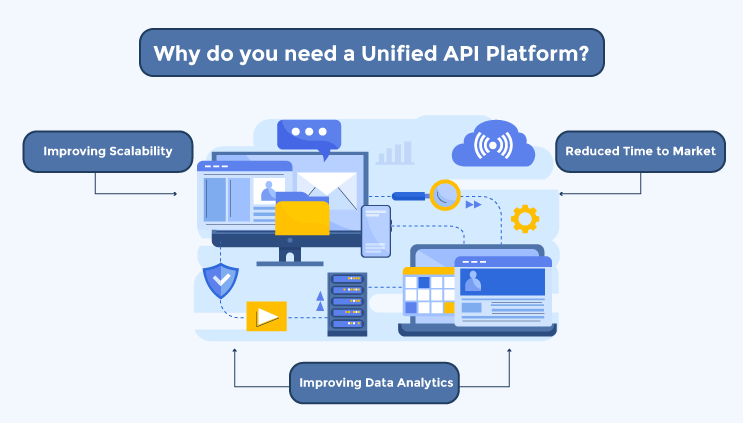 API integrations are important to any Software as a service (Saas) company. This means that your development, engineering, or product team must spend hours researching all of the APIs necessary for each platform to which you wish to add the API integration. With a unified API integration platform, you can connect to various services via your app with only an API calls or API Keys. This removes the complexity underlying each API and decreases overall development time. Here are some other benefits of a unified API integration platform.
Improving Scalability
Unified API encourages greater flexibility in scaling to meet the company's demands. This also enables firms to develop on the go without worrying about rising integration or maintenance expenses.
Reduced Time to Market
Since unified API enables quicker addition and easy deployment of APIs, project teams can be more responsive to technological upheavals. As a result, the Unified API control acts as an effective pit stop that speeds integration and product delivery to the market.
Improving Data Analytics
unified api control is intended to enable and process data from and to consumer contact points into systems using a single medium. This simplified collaboration benefits merchants and organizations that rely on user data by ensuring better analytics and improved customer personalization.
How Does the Unified API Platform Work?
Many vendors have their own APIs that third-party apps may utilize to interface with the platform. Businesses then use these APIs to integrate their workflow and software. The essential point here is that each business has distinct APIs and different methods of structuring data. The technology is deliberately developed to isolate data from each platform so that queries can be sent to any of the business's software systems.
How to Select the Right Unified API Platform?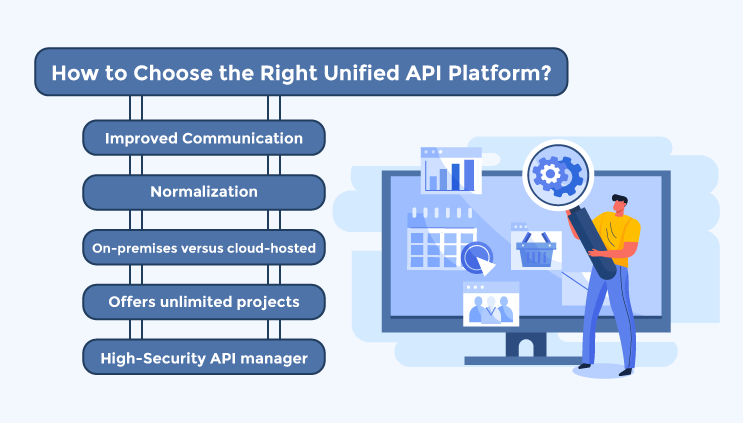 Here are a few things you should look for in a unified API before purchasing it.
Improved Communication
A good unified API management software allows diverse elements of the company to connect more efficiently without having to write a code. This is possible when your unified API platform offers a single point of integration for all APIs, making API deployment easier and faster.
Normalization
A good unified API aids in API normalization or aggregation. For example, if you are creating a B2B product and need to integrate many connectors, a unified API management software can help. It should handle the hard lifting of comprehending the various schemes, authentication, and other peculiarities a platform may have.
On-Premises Versus Cloud-Hosted
On-premise setup and maintenance might take more time. On the other hand, cloud-hosted solutions may also introduce some delays owing to their dependence on the vendor for service and updates. In addition, on-premise software can provide greater customization and higher security, which cloud-based software can not. However, cloud-hosted systems allow for more flexible access, which is beneficial for those working remotely or away from the company. Depending on the requirements in regard to customization, security, and versatility, you can choose one of the two.
Offers Unlimited Projects
Since developers move between numerous programs concurrently through a single interface, they must be able to construct unique solutions with no constraints in the shortest amount of time.
High-Security API Manager
The best-unified api management tools allow for simple administration of API access. It serves as a single point of contact for all API requests, providing various features such as authentication, rate control, and monitoring. In addition, the best unified API should protect the system from unwanted access by implementing complicated authentication methods and access restrictions that limit access to only authorized users.
Summing It Up
The use of API integrations grows as more businesses implement more complex microservice and serverless architectures. Unified APIs may unify data models, build compliance and security models, and improve the developer experience.
Even though the concept is relatively new, numerous unified APIs currently exist, demonstrating their application in the vast field of business. Before deciding on a provider, it is essential to consider what connections your clients want and how much coverage the unified API can provide. One of the best-unified API software on the market is Unified.cc by 500apps. This tool provides a platform for the development of APIs. It has several functionalities, such as routing, data storage, and authentication.
The tool allows developers to utilize 200 different programs via a single unified API, making it considerably easier to master a single set of instructions rather than attempting to learn how to use several separate applications. It also enables developers to quickly connect to many services and data sources, making it an excellent alternative for developing large-scale applications. Unified.cc also allows clients to call many REST APIs from a single interface. This streamlines the process of integrating several APIs into an application and simplifies switching between services.
All in all, Unified.cc also has significant advantages over traditional development platforms, including enhanced performance and scalability, making this the optimal API management software to use for your company.
Know Why Unified.cc is Best for Unified API Platform?
#2
Lower Maintenance Cost
#5
Multi - APIs Connectivity
#7
Performance Tracking & Monitoring Tool
#8
Centralized Logging System
#9
Unbelievable pricing - the lowest you will ever find
#10
Everything your business needs - 50 apps, 24/5 support and 99.95% uptime
Join the SaaS Revolution
All-in-One Suite of 50 apps

Unbelievable pricing - ₹999/user

24/5 Chat, Phone and Email Support