The Power of APIs: Connecting with the Digital World
Today, over 50% of B2-B businesses use the power of APIs for collaboration. The API has made a wide global presence by allowing several business users to inculcate innovation, drive connectivity, and enhance customer experience. In the fastly growing world of technology, many renowned organizations have started to adapt to API-led connectivity to put forward their best capabilities and technical skills to deliver a sustainable application.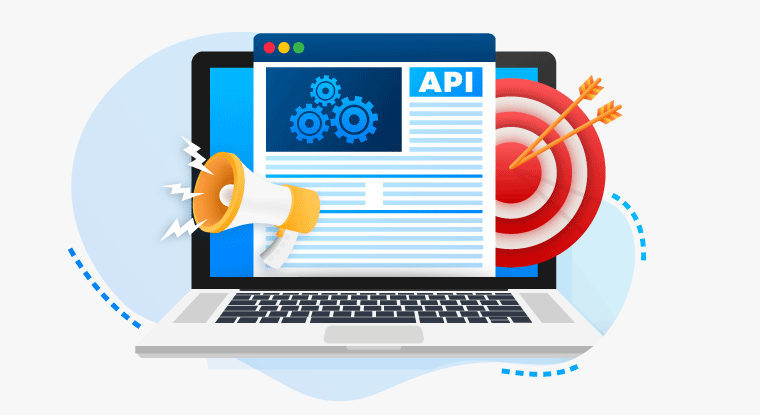 What Is API-Led Connectivity?
API-led connectivity is a simple way of connecting data to your application using reusable APIs. The reusable APIs are designed in a specific manner to unlock the data from the existing system, compose it into the process, or integrate two software to enable communication between them. api led connectivity depends on three categories of reusable APIs:
Experience APIs

Process APIs

System APIs
These three categories allow your organization to compose a new service for the application and also decentralize access to enterprise data. When your company adopts API-led connectivity, the organization becomes capable of connecting with multiple systems and data sources. The API-led connectivity enables the legacy systems to be accessible in a centralized location for various teams throughout the process. Therefore, you make optimal use of the data across several systems while inculcating advanced security into your business application.
Why You Need an API Strategy?
As years have passed, API-led connectivity has become one of the significant API integration strategies to speed up digital transformation by engaging with customers and partners through APIs. Many business users are not physically connected to their customers. That's where APIs come into play.
Here are some reasons why you need an API for your business.
APIs provide instant and safe access to external data and functionalities through api gateway that you do not have to design or manage from the beginning. Accepting online payments, for example, is crucial for e-commerce businesses. Instead of developing their online payment system, businesses may interface with APIs such as Stripe or Square.

As data is transportable, it may be consolidated from several sources into a single integrated solution. Integrated solutions assist in increasing user engagement and decreasing user dropout rates. You may increase income for your company by incorporating external data into your interface via an API connection.

As APIs are modular and reusable, an API-first design speeds up development. The developers do not need to build code from the start for every capability or every time they combine two entirely separate apps. Instead, they may start with integration and work their way up from there. Furthermore, after you've established or purchased a new API, your front-end and back-end teams may start working together instead of waiting for each other to finish tasks. Companies with shorter time-to-market get a competitive advantage. Saving development time, therefore, indicates cost savings.
How to Connect Your Business with the Digital World Using APIs?
Previously, CIOs saw integration as a roadblock. However, they are now exploiting integration as a competitive advantage by leveraging APIs and api managers to promote organizational innovation and digitization. Hence, businesses must now learn how to connect their businesses with the digital world.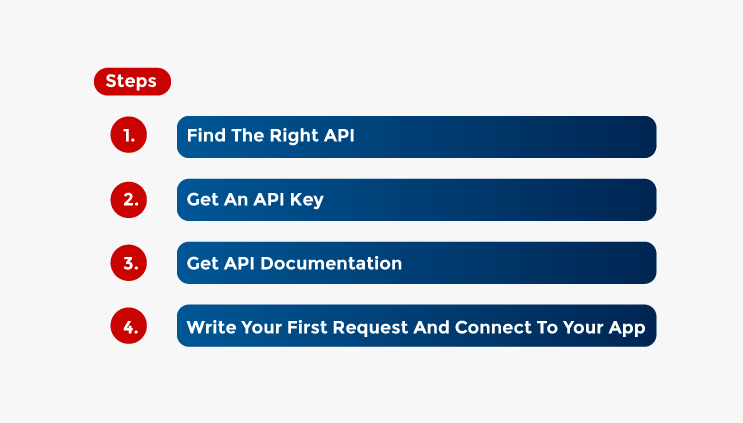 APIs are a great way to connect your business to the digital world. Given below are the steps you must follow to do so:
Step 1: Find The Right API
First and foremost, you should look for an API that you can integrate into your business. You may already be interested in an API. If not, then begin looking for one that has the features you require. You might also want to search by price. For example, you can start with a free API before moving on to paid APIs.
Step 2: Get An API Key
An API key is used to authenticate yourself as a valid client, record your interactions, and set access permissions with the API.
Some APIs make their keys available for free, while others charge clients for them. Regardless you need to sign up for the service to obtain a unique identifier.
Step 3: Get API Documentation
API documentation is essentially a how-to guide for effectively using and integrating with an API. In addition to providing all of the information needed to work with the API, such as whether an API key is required, it usually includes examples and tutorials. You can refer to the api documentation for instructions on obtaining your key, sending requests, and retrieving data from the server.
Step 4: Write Your First Request And Connect To Your App
You may then write your first request. The simplest method is to structure and send your requests using an HTTP client. You still need to understand and obtain information from the API documentation, but you may not require much coding knowledge to be successful.
Finally, you can sync your application with your API of choice now that you know how to make requests to it.
The Benefits Of An API For Your Business
When you deal with a legacy system, an API securely utilizes the functionalities of multiple applications, resulting in greater efficiency. It eliminates your worries about replacing the old system as it reuses the available resources to provide you with significant benefits that bring value to your business, improve agility, and decrease additional operational costs. Here are some of the important benefits your organization would reap from an API:
API bridges the gap in technical knowledge

Stabilizes the software ecosystem

Improves the consistency of data management

Saves considerable time in developing a program

Enables every business user to innovate new ideas

API Integration helps you gain an in-depth analysis of users' behavior

It does not require integrating a new system

The API designs are reusable

Allows differently-sized businesses to streamline operations without any technical skills

Uses a single platform to securely expose critical data to web apps and other devices
How Power of APIs Can Help Your Business?
Without even realizing it, we all make use of APIs in our daily lives. However, here are a few beneficial ways to make the most of APIs in your business: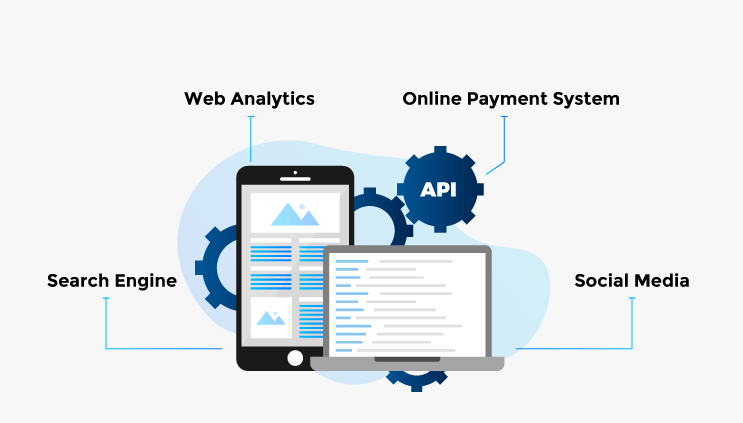 Social Media
Today, most business owners consider social APIs as a key to powerful marketing strategies. Social media APIs help in distributing standard content through different social media platforms like Twitter, Facebook, Instagram, and LinkedIn profiles. It allows the end users to share content or quickly log into a social media account, which provides you the user data for future use.
Online Payment System
A renowned business operating on a wide scale by making use of digital money transactions always ensures the use of APIs. For any eCommerce platform, a secured API is considered a reliable tool to secure online payments using an API gateway. It helps you make fast and easy transactions without worrying about a breach of security.
Web Analytics
Any organization that uses a website should use APIs to evaluate the performance of the website traffic and gain insights into the user activity on your website. The most common Google Cloud API platform is Google Analytics, which keeps track of the website reports and manages your Google accounts.
Search Engine
API is commonly used to acquire information from various sources. When you search for an exact keyword online, you make use of the API. Likewise, search engines work to provide you with the exact results. Search engines are integrated website search API because they work particularly to gather information and provide you with the right content demanded. Some of the major search engines allowing API integration are Google, Bing, and Twitter.
Summing It Up
API-led connectivity is the innovation that can enhance your business flow through the concept of reusing. An API-led approach improves the overall communication between different applications, increasing productivity. API-led connectivity not only bridges the gap of technical knowledge among the developers but also speeds up the process of your IT team delivering new technology.
Suppose you find it challenging to figure out the best way to make the most out of APIs in your business, Unified. cc, designed by 500apps, can be your go-to API platform software. Unified.cc helps you connect with a vast number of APIs through a single platform with ease. To find more information on the advanced features offered by 500apps on this Unified API platform, visit the website now!
Know Why Unified.cc is Best for Unified API Platform?
#2
Lower Maintenance Cost
#5
Multi - APIs Connectivity
#7
Performance Tracking & Monitoring Tool
#8
Centralized Logging System
#9
Unbelievable pricing - the lowest you will ever find
#10
Everything your business needs - 50 apps, 24/5 support and 99.95% uptime
Join the SaaS Revolution
All-in-One Suite of 50 apps

Unbelievable pricing - ₹999/user

24/5 Chat, Phone and Email Support