A Complete Overview of What Is an API Integration?
It is a connection formed between systems with the help of an API, it allows the connected systems to share data among themselves. Two or more applications with APIs can communicate in real-time via such APIs, saving time and money while also improving information and data accuracy. Many high-performing companies depend on API interfaces to keep data synchronized, increase efficiency, and boost revenue.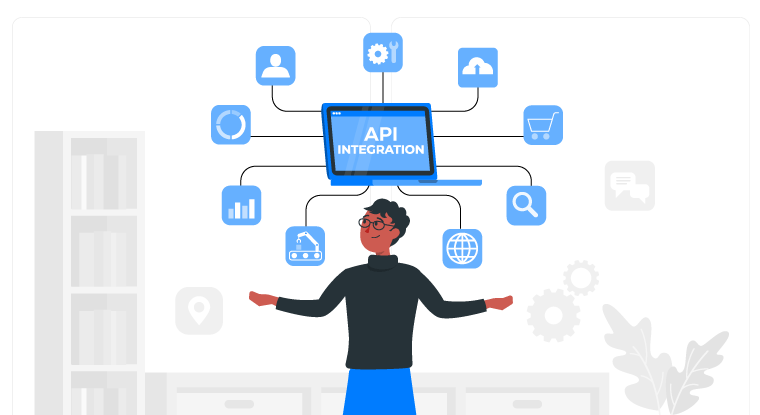 API stands for Application Programming Interface. It is a set of protocols, definitions, and tools that allow software modules to connect and communicate with one another. It allows a user to engage with a web-based application or tool. Anyone can use an API to request information or data from an app through an interface. The data is then sent to an API, which interprets the information and returns a response. An API converts the returned data into data the user can understand.
Why Is API Integration Necessary
API integration allows external apps to communicate with your company's technology stack. This allows for easy data transmission or exchange between the two platforms. Businesses currently make extensive use of cloud-based technologies, SaaS services, and commercial software. As a result, API integration is necessary to eliminate the time-consuming coding procedure required for data exchange across different apps.
Let's discuss a few reasons why API integrations are important below:
To Improve Efficiency
Your employees may spend hours manually integrating information from several APIs if you don't use an API integration platform. However, adopting API integration tools to automate communication between apps and numerous data sources can save your team a lot of time. The team can concentrate on more significant activities and increase the productivity and efficiency of multiple departments with an easy API Integration solution in place. end to end api management (End to End API Management) allows your team to identify, connect, and reuse IT resources, thus improving operational efficiency.
To Use Legacy Applications
Many businesses are often unable to retrieve data stored in outdated technologies. By allowing these businesses to build their own APIs internally, an API Integration platform can help them use their old data sources and securely access data. API platform also enables its users to effortlessly retrieve and use data from various sources.
To Easily Connect with Future Technologies
Over the last decade, technology has advanced at a breakneck pace, with no indications of slowing down. The company must stay up to date with the newest technical breakthroughs in order to flourish in the fast-changing digital business world. An API Integration platform enables companies to connect their systems more successfully and efficiently, allowing them to seek out novel methods to incorporate new technology into their business operations.
What Is an API Integration?
Application programming interface (API) integration is a method of connecting two programs - usually through technology popularised by software developers. It enables an app to draw information from another service or application and the API acts as a channel through which data or commands can be sent out. For example, say you want to print your calendar in Microsoft Outlook, but not just the same old events that you see every day, but colour-coded ones too. It can be done by sending instructions via APIs that have been implemented by Microsoft. The instructions are received by the API and then processed as per the pre-determined instructions with the output appearing in your calendar exactly as you would like it to be.
How to Do an API Integration?
When it comes to APIs online, it's crucial to remember that they're not all the same, and they weren't all made equal. Many Best API integration platforms require very less coding but increased knowledge of the integration process.
The First step is the research stage. When getting started, you should consider these things during the research stage - What are the types of API and what type do we want, what kind of payload are we going to deploy, and it is necessary if there is robust documentation for the same. The next step is to plan your data flows. In this stage, you should consider important things like how you are going to provide security, data transfer time, and speed. After data flows are planned, now it's time to focus on the data map. A data map provides the blueprint of all the planning in a visual source. If the three steps above are done correctly, development should be quite easy. The properly planned structure should flow automatically. After development, testing plays an important role as it ensures the proper working of the API.
Advantages of Integrating APIs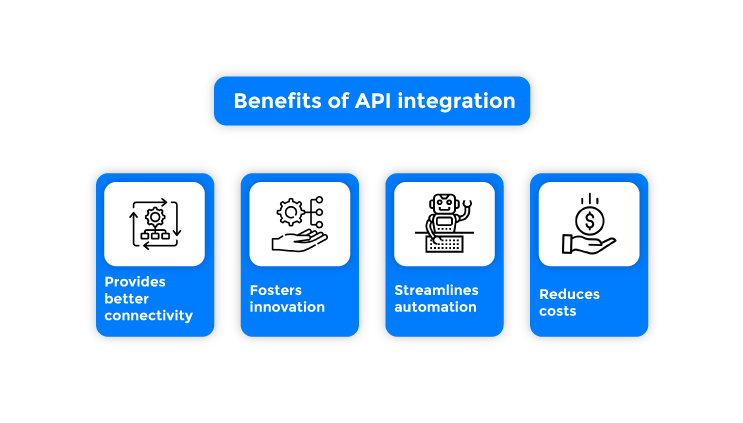 Let's explore some of the benefits of API integration for your business.
Provides Better Connectivity
The primary capability of APIs is api led connectivity (API Led Connectivity): they allow disparate systems, applications, and platforms to interact and share data, as well as execute a variety of operations. APIs make integration easier by allowing various software to rearrange their interdependencies based on your company's needs and preferences.
Fosters Innovation
In today's digital world, innovation is the deciding factor in an organization's success. The most significant benefit of using APIs is that they encourage innovation in businesses. api manager(API Manager) can be used to design and develop unique business models. unlimited projects (Unlimited Projects) allow developers to create apps faster, better, and at a cheaper cost.
Streamlines Automation
You can automate any manual operations in your organization to create a streamlined transition between linked apps. api gateway (API Gateway) aids in the resolution of challenges like time spent on manual tasks and avoids human errors by allowing for a seamless transition between connected apps.
Reduces Costs
You can drastically lower the cost of building an application by using APIs because they require fewer resources to create an app. Developers can use APIs to get the majority of the functionality they need to build apps from other places. Using APIs allows developers to focus on fine-tuning the unique features of their apps faster, which helps businesses save time and money.
Tips for Maximising Your API Integration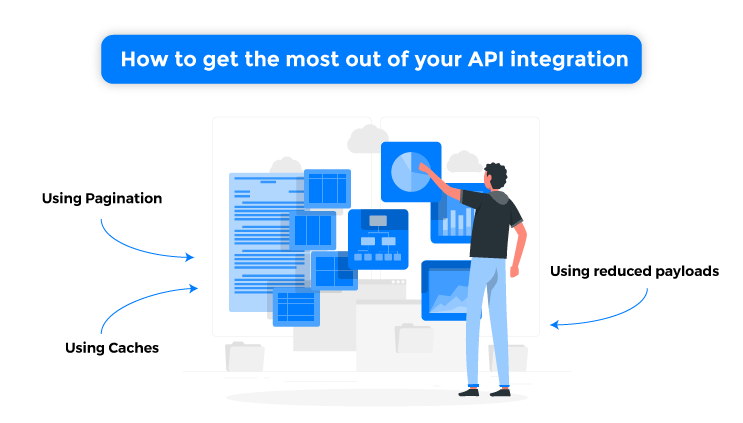 If you want to utilize APIs or are considering engaging an API provider, follow these guidelines to optimize your operations and get the most out of them.
Using Caches
Caching is one of the most effective methods for improving API responsiveness. If you regularly make the same request, the cache of the reply might save you time by avoiding unnecessary database searches. When businesses choose a managed API services provider with a variety of optimization tools and capabilities built-in, API caching is straightforward to deploy.
Using Pagination
Using pagination enables standardization and segmentation, which lowers the complex nature of the results and improves user experience. This optimization focuses on improving replies while keeping the data sent to the user intact.
Using Reduced Payloads
Data payloads that are too large can slow down operations and degrade performance. These huge payloads can consume a lot of time to generate on the server and considerably longer to load on a client. Therefore, it's typically ideal for transmitting them compressed.
Summing It Up
API integrations bring the many layers of your tech stack together, allowing them to communicate and transmit data effortlessly. As a result, we should expect more sophisticated and simpler API integration tools in the future. The current level of API integration should be viewed as a starting point, with the expectation that it can be used to tackle more complex problems in the future.
If you're interested in learning more about APIs in your company, check out the Unified API platform and get a free trial today."
Know Why Unified.cc is Best for Unified API Platform?
#2
Lower Maintenance Cost
#5
Multi - APIs Connectivity
#7
Performance Tracking & Monitoring Tool
#8
Centralized Logging System
#9
Unbelievable pricing - the lowest you will ever find
#10
Everything your business needs - 50 apps, 24/5 support and 99.95% uptime
Join the SaaS Revolution
All-in-One Suite of 50 apps

Unbelievable pricing - ₹999/user

24/5 Chat, Phone and Email Support