What Is API Security Importance
APIs or Application Programming Interfaces are vital components of digital transformation initiatives. They are becoming increasingly vital as integration and interconnectedness grow more important. Thus, protecting such APIs is a major concern. APIs are constantly rising attack surface that is often disregarded by developers and application security administrators.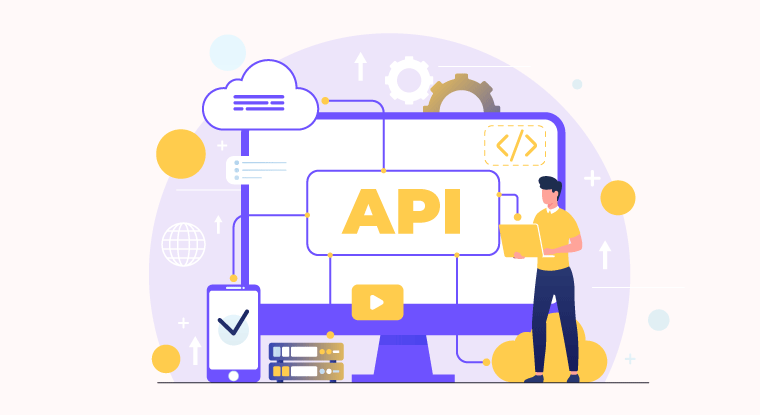 What is API Security?
An application programming interface (API) is a method for one piece of software to communicate with another. Most current online apps rely on APIs to function, and APIs increase the risk of attack by enabling third-party access to them. API security is the practice of defending APIs against assaults. Thus, API advanced security is an important aspect of online application security.
API Security Importance with Some Examples
APIs are the foundation of today's digital ecosystems. They are firmly embedded in software systems and constitute a key driving factor in the effective execution of applications. APIs are also used by standard client-server applications to exchange data.
Furthermore, third-party API consumption is a common method of integrating APIs with existing systems using api manager. APIs are crucial stakeholders in microservices, the most innovative and widely utilized application architectural paradigm these days, in addition to traditional client-server or third-party interactions.
As a result, protecting APIs to limit their vulnerability and contributing to a transparent API economy becomes a duty that organizations simply cannot avoid.
API Security Examples
Here are some examples where API security is key.
Inventorying APIs
As digital transformation projects hasten the creation of new APIs, you must examine new APIs for suitable security measures. An AI engine will uncover APIs that were previously unknown to security practitioners by examining API traffic records. This degree of API discovery guarantees that rogue API blind spots are minimized. When new APIs are identified in this manner, they must be subjected to an API security checklist.
API Threat Identification
You can detect threats in real-time with API security. An api gateway, a WAF, or an agent implementing a set of validation criteria is used for real-time threat detection. Nonetheless, there is a limit to how many layers of real-time security may be implemented sequentially before latency suffers.
Out-of-band API traffic analysis should be delegated to a specialized AI engine that is not connected to the API traffic stream. You can capture API traffic metadata from this AI engine to develop ML models for each API and track error rates, API sequences, and API grouping across tokens, API keys, IP addresses, cookies, and so on.
API Security Best Practices
If enterprises plan to offer their APIs publicly, they must follow certain fundamental security best practices and use well-established security measures.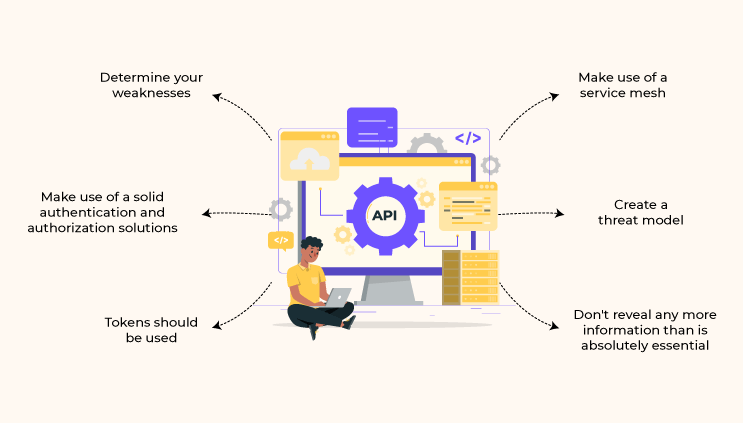 Determine Your Weaknesses
Knowing which stages of the API lifecycle are unsafe is the only way to safeguard APIs successfully. This may not be that easy to do, especially as the organization's usage of APIs grows. APIs must be regarded as software artifacts on their own and must follow a complete lifespan, including maintenance and retirement. It is essential to evaluate the entire API lifecycle in end-to-end api management.
Make Use of Solid Authentication and Authorization Solutions
Many publicly available APIs suffer from non-existent or poor authorization and authentication. Hackers can easily attack your APIs when you do not enforce authentication or when an authentication factor is readily broken into. As APIs give access to an organization's databases, access to them is properly controlled. You must use solutions based on robust, established authentication and authorization technologies wherever possible.
Tokens Should Be Used
Token usage is a good API security practice in general. Tokens granted to identities can be used by developers as a reasonably simple method to control access to services and establish trusted identities.
Make Use of a Service Mesh
Service mesh technology, like API gateways, adds another layer of control as it sends requests from one service to the other. A service mesh optimizes how all of these moving pieces interact, including the implementation of correct authentication, access control, and other security mechanisms. API administration is shifting to the service communication layer. Thus, solutions are accessible at the service mesh layer. If the APIs have easy deployment then the number of APIs grows, and automation and security become increasingly important.
Create a Threat Model
Threat modeling is a methodical way to identify and assess threats. Threat models are most effective when utilized as a preventative strategy, but they should also be viewed as a continuous cycle for analyzing, mitigating, and preventing application vulnerabilities in an automated yet regulated manner.
Don't Reveal Any More Information than Is Essential
Some APIs give way too much information, whether it's the amount of unnecessary data returned by the API or information revealing far too much about the API endpoint. This usually happens when an API delegates the responsibility of filtering data to the user interface rather than the endpoint. You must ensure that APIs only return the information required for employees to perform their job. Furthermore, at the API level, you can impose data access limits, monitor data, and obfuscate if the return contains confidential data.
Summing it up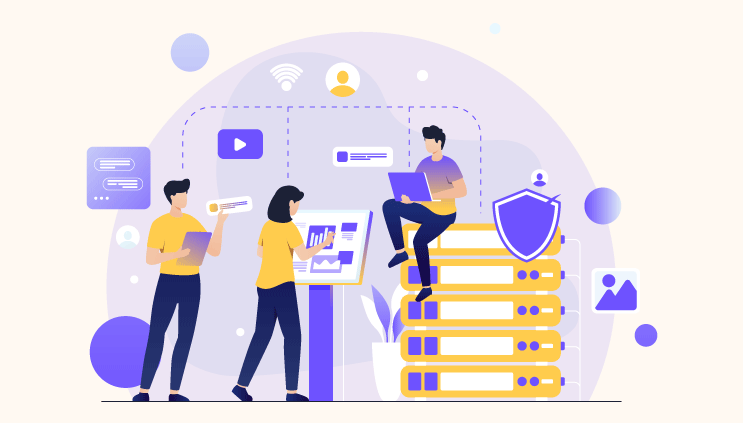 APIs are often regarded as the best technique for developing contemporary apps, particularly for mobile and Internet of Things (IoT) devices. While the notion of bringing information into a program from an external source is not new, continuously developing app development methodologies and the push to innovate mean that some firms may not yet understand the possible hazards associated with making their APIs publicly available.
Businesses must integrate mechanisms to resist well-known API-targeting attacks such as cross-site scripting, injection, distributed denial-of-service, and others. Several of the best practices mentioned in this blog can also help build strong API security standards and maintain them proactively over time.
One such application you can use is Unified.cc, which allows you to access multiple apps using a single unified API, allowing you to spend less time separately integrating multiple applications and services. In other words, Unified.cc makes it simple to connect to many services and data sources, making it an excellent choice for developing large-scale applications, all while providing high security.
Know Why Unified.cc is Best for Unified API Platform?
#2
Lower Maintenance Cost
#5
Multi - APIs Connectivity
#7
Performance Tracking & Monitoring Tool
#8
Centralized Logging System
#9
Unbelievable pricing - the lowest you will ever find
#10
Everything your business needs - 50 apps, 24/5 support and 99.95% uptime
Join the SaaS Revolution
All-in-One Suite of 50 apps

Unbelievable pricing - ₹999/user

24/5 Chat, Phone and Email Support