Choosing the Right API Management Solution for Your Business
API management solution is crucial in allowing your organization to cater to customer demands and respond to them quicker. It is a process of distributing, controlling, and monitoring the APIs that connect your data and applications across enterprises and clouds. It allows you to create both public and internal APIs, guaranteeing you advanced security and better accessibility.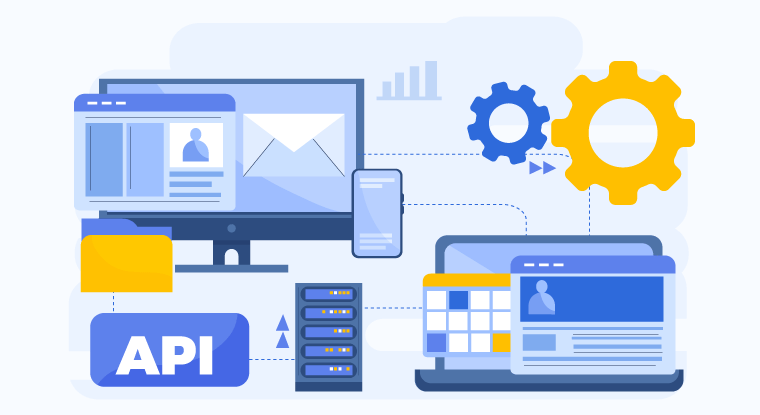 Today, over 77 percent of business owners have adapted to API management to publishing public and private APIs with ease. API management has a set of processes and technologies that enable your organization to publish the API securely. It provides unified control over the APIs while ensuring that your application's demands using APIs are addressed on time.
How Can API Management Solution Help You?
Although you may decide to integrate API into your business flow, you require structured assistance throughout the process. Just like filling out an application form for admission to a renowned university goes through several processes, api management manages your APIs from creation, easy deployment, policy governance, and monitoring the performance.
API management tools provide you with tools to control the life cycle of APIs. It ensures the reuse of the available resources in the existing APIs to manage your operation policy, comply with security, and reduce the time involved in creating new APIs. Even if your organization has a legacy system, api led connectivity enables access to the existing API functionalities while offering you a better API with advanced security.
The API management allows your API to bring out consistency in customer experience by helping the developers ensure that the API is built with specific features targeting the demographic audience. As mobile devices have also become a significant part of our lives, most people prefer to use the application using their mobile. So, here API management helps your organization to enrich the application by improving the mobile user experience, which further adds more value to your business. API management also offers a unique feature called versioning that helps you create two different versions of the same API for different clients. It helps your developers to customize the best-suited API according to the business requirements without hampering the original API functionalities.
API management is your key to harnessing the full potential of APIs. Secured API management allows your organization to implement technology-driven applications to scale up your business operations and stay ahead of your competitors. API management provides valuable insights into the usage of metrics, analytics, and geographical statistics, thus improving the stability of your API platform. An excellent software tool like Unified.cc, designed by 500apps, ensures to offer you standard and secured access to APIs by eliminating the hassle of developers in configuration management.
API Management Consists Of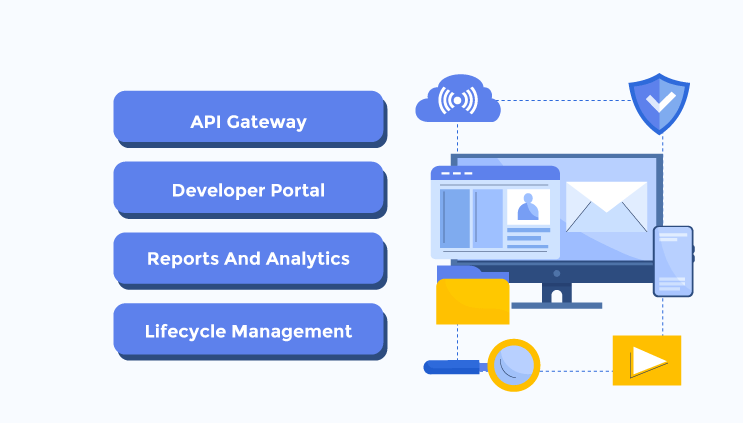 API Gateway
An api gateway is a key to good API management as it ensures to the route of all the requests, composition, protocol translation, and all standard API services at one fair point.
Developer Portal
The developer portal comes into play when the documentation of APIs takes place. The developer portal encourages the developers to discover and test the APIs. They are typically built on a content management system with valuable capabilities like documentation, check-in or check-out, search, read, and test features. It also offers FAQ pages and chat spaces for the developers to have access to both separate forums.
Reports And Analytics
Reporting and analytics are functions that play a significant role in monitoring the data and metrics to gain real-time insights into an API's performance. The analytic engine is a great functionality that helps you analyze the data and create synthetic transactions for testing your API's overall performance.
Lifecycle Management
This functionality ensures that every procedure is under control throughout the api development. It keeps track of every step and takes control of the process right from the creation of an API to retirement. With this feature, you get a holistic view of how to manage different stages of your API while ensuring that the version control is in check.
Key Features to Look Into While Selecting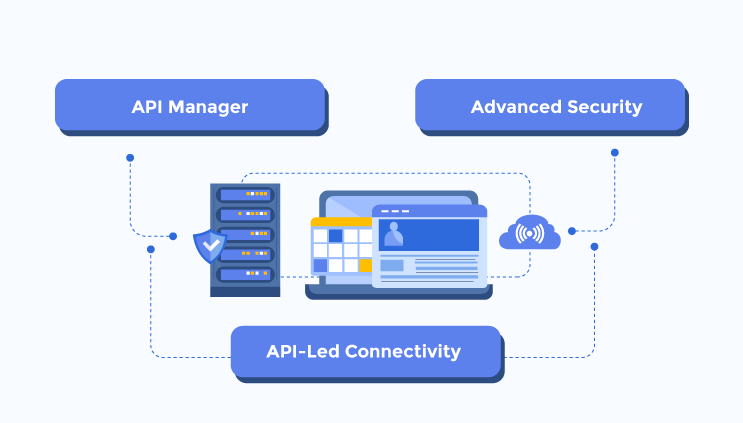 While choosing the right API management solution for your business, you should ensure to plan a high-functionality level API that caters to all the business needs, making the process easier. Here are a few key features to look into:
API Manager
API manager manages the API management, and the resources to APIs are connected. The API manager controls the entire process of email creating, releasing, and managing the APIs. It helps you create security policies and gain access to the control regulations. With this feature, you can send and update the data in any accessible API. Versioning can get critical when you design a REST API. Here, the API manager helps you make interface changes without difficulty.
Advanced Security
Securing sensitive data plays a crucial role in every business operation to prevent any unauthorized users from accessing your API. When you invest in a good software application that offers advanced security, it includes a complex authentication process and access to controls. Tight security limits the access to the users, making sure that the user accessing your API is who they claim to be. In this process, the user is thoroughly verified. It also benefits you in auditing and logging as the administrators get to track the API usage and spot any security issues beforehand. Here, the API gateway plays a significant role as it prevents unauthorized users from accessing the APIs by notifying you of the access request.
API-Led Connectivity
API-led connectivity is an extensive feature that allows you to combine all integrations in one place. It mitigates the need for users to navigate several platforms and interfaces to connect with your API. It enables the users to interact better with customers and vendors seamlessly. With this feature, you get to combine vast technologies and APIs to develop a powerful tool that adds value to your business. The API-led approach not only keeps control of every application in one place but also reduces the workload by offering you reusable resources with ease.
How Unified.cc Can Be Your Solution?
Unified.cc offers extended resources like end-to-end API management, Unified API control, web API gateway, and API documentation. The Unified API platform has been tailored by 500apps for developers to access and manage the APIs with more ease. Unified.cc is your go-to solution as it helps you keep track of all the APIs and offers the ability to manage the device and application from remote services to enable a streamlined process of working.
With Unified.cc, you can expand your business with APIs by offering plenty of other services for the customers. You can easily examine the API to find areas needing improvisation and customization. Unified.cc offers an easy-to-use interface and its unique features are user-friendly. So, if you are a business-driven person seeking a permanent solution for your API management, Unified.cc should be your go-to choice.
Summing It Up
Great API management helps your organization make data-driven decisions by gaining insights into the API performance through analytics and metrics. API management is undoubtedly the most significant process to gain a variety of benefits that improve productivity by reducing the manual process of handling multiple APIs.
API management tools take care of your existing APIs by reusing the existing resources, further allowing your organization to smoothly transition the business with new APIs accessible to every legitimate user. Unified.cc, developed by 500apps is the best solution for end-to-end API management. It helps you connect with APIs seamlessly while providing advanced security to your application. To find more information on the features offered by 500apps, visit the website now!
Know Why Unified.cc is Best for Unified API Platform?
#2
Lower Maintenance Cost
#5
Multi - APIs Connectivity
#7
Performance Tracking & Monitoring Tool
#8
Centralized Logging System
#9
Unbelievable pricing - the lowest you will ever find
#10
Everything your business needs - 50 apps, 24/5 support and 99.95% uptime
Join the SaaS Revolution
All-in-One Suite of 50 apps

Unbelievable pricing - ₹999/user

24/5 Chat, Phone and Email Support