API Management and How It Helps in Unlocking Business Value
In today's environment, Application Programming Interfaces (APIs) are more than simply handy tools for linking software. They are also products that are important to the technological landscape and can contribute to an infinite number of new tools within or outside of your firm. APIs are just bits of code that enable companies to do tasks. However, if you are involved in the API economy and beginning to consider APIs as a source of monetization or growth, you must run them with greater prudence. This article tells you everything you need to know about APIs.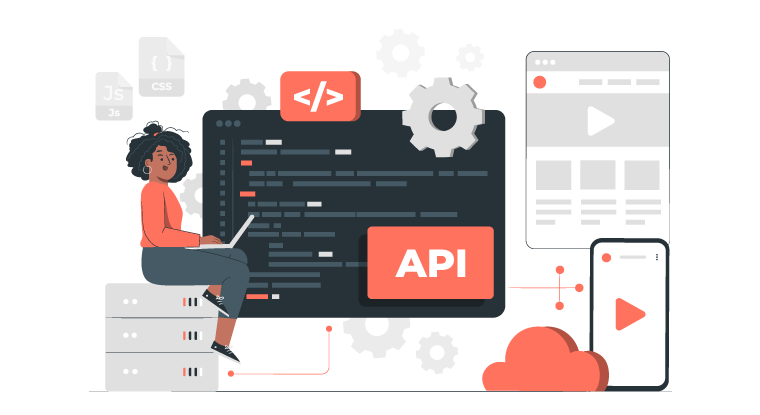 Overview Of API Management
The process of building, publishing, and managing API connections of an enterprise in a secure environment is called API management. In other words, it provides a scalable, unified platform that allows organizations to share their API setups while limiting access, collecting and analyzing user information, and enforcing advanced security standards.
Managing APIs enables a company to ensure that the APIs are utilized in accordance with corporate standards and are regulated by suitable levels of security since certain services may necessitate different security policies than others.
API Management and How it Works
API management solutions enable enterprises to expose their back-end services to the outside world in a more organized manner. This allows developers to create apps using APIs for end users. api management tools also separate the management part from the real business logic implementation. This results in transparency, allowing the back-end services to be tweaked, upgraded, optimized, and organized seamlessly while exposing interfaces as a proxy layer at the API gateway level.
It is crucial to note that API management solutions offered by various manufacturers on the market may differ slightly in terms of their components.
Let's look at how API solutions work with an example.
Imagine a waiter in a restaurant. You, the consumer, are seated at a table with a menu, and the kitchen is the supplier who will fill your order.
A connection is required to send your order to the kitchen and subsequently deliver your meal to your table. It can't be the chef because he is in the kitchen cooking your meal. Therefore, an individual connecting the client who orders food and the chef who prepares it is required. That's where the waiter, or the API, comes in. The waiter takes your order, brings it to the kitchen, and instructs the chef on what to do with it. It then returns the response; the food is cooked and bought for you.
Advantages of an API management platform for businesses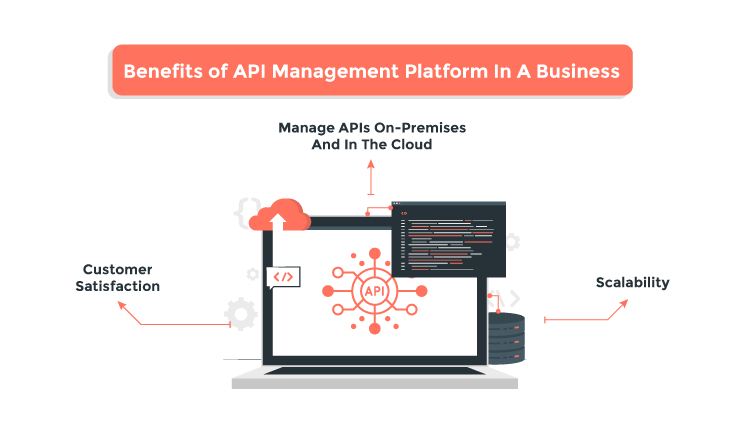 Here are three key benefits of an API management platform.
Manage APIs On-Premises and in the Cloud
You can deploy api gateway alongside APIs hosted in the clouds and on-premises to optimize API traffic flow. Meet security and regulatory needs while having unified administration and complete visibility across all internal and external APIs.
Customer Satisfaction
Organizations across a variety of industries, from healthcare to banking to retail and beyond, are bringing new levels of responsiveness and convenience through increasing connection. APIs help businesses keep up with their consumers' desires and demands by promoting quick adoption of new apps and seamless experiences across various channels. Personalization and value-added services are two prominent instances in which APIs affect the user experience.
Scalability
With an ever-increasing amount of applications and data in play for practically every organization today, API management is critical to scaling up while keeping an innovative culture. In fact, it is the foundation of scalability since it improves access and reduces technical overhead throughout the API lifespan. With so much to manage, consolidate, and integrate, the drive to build and publish new APIs is frequently insatiable.
API Management: Best Practices for Implementation
Make Use Of JSON (JavaScript Object Notation)
An API management platform provides various output formats, including plain text, JSON, CSV, XML, RSS, and even HTML. Obviously, this will depend on your application and, more precisely, the task you need your API for. If you have a customer service company and always want to be available, you should utilize JSON as the data format. This data format is used in the communication, both the payload and the response.
Handling Errors
Nobody wants to see mistakes in a response they sent to your API. However, if they do, it's essential to present them with enough knowledge to understand what happened and why. As a result, accurate error handling should be regarded as one of the best practices in API management, as should api integration testing, because the sooner an issue is found, the faster, cheaper, and easier it is to resolve.
In many circumstances, just processing HTTP status codes is sufficient, but giving more verbose messages and some internal code references is preferable for a complete explanation. As a result, the ""ideal"" error message would be HTTP Status code ID, which may be an internal reference. Alternatively, you may include a link to the api documentation, including all of the code and a readable message briefly describing the issue.
Help With Content Negotiation
A response message's body might contain data in several forms. When a client sends a request, it might include an Accept header describing the data types it supports. When the API provides the result, it should format the data using one of these media types and indicate the format in the response's Content-Type header. If the client does not supply an Accept header, then it should use a reasonable default response body format.
Summing It Up
API management, like other integration aspects, is about unity and cohesiveness. These systems aim to get your data and applications, whether newly built or legacy carryovers, to speak the same language. The ability to manage and administer the whole API ecosystem from a single platform has become crucial for companies, which is where Unified.cc's unified integration platform shines.
Unified.cc, a component of the 500apps, allows for simple administration of API access, therefore protecting and monitoring their use. It serves as a single point of contact for all API requests, providing various features such as authentication, monitoring, and rate control. In other words, it provides a centralized management interface for APIs and their related resources.
Unified.cc allows companies to expand their APIs as their needs evolve. Furthermore, it allows organizations to monitor and evaluate their APIs to enhance performance and understand customer demands. You can avail this tool by visiting their website.
Know Why Unified.cc is Best for Unified API Platform?
#2
Lower Maintenance Cost
#5
Multi - APIs Connectivity
#7
Performance Tracking & Monitoring Tool
#8
Centralized Logging System
#9
Unbelievable pricing - the lowest you will ever find
#10
Everything your business needs - 50 apps, 24/5 support and 99.95% uptime
Join the SaaS Revolution
All-in-One Suite of 50 apps

Unbelievable pricing - ₹999/user

24/5 Chat, Phone and Email Support