What is Unified API Platform and Why You Need It?
Unified API can solve the continuously rising complexity of connecting different systems. See how a unified API platform can help you get a competitive advantage in the market by allowing you to use every tool of choice concurrently.
What is a Unified API Platform?
A unified API is an abstraction layer that allows interactions with several distinct APIs and underlying data models to be handled efficiently. They combine cloud-based software in certain categories, providing a single endpoint for accounting, banking, leads, calendar, CRM, or email. In other words, a unified API allows the user to view and access their resources on one platform. Unified APIs do this by standardizing resources and data models within a single vertical, considerably reducing redundancy. Overall, the appeal of a unified API is its ability to provide a uniform API architecture and developer experience.
Why do you need a Unified API Platform?
API integrations are important to any Software as a service (Saas) company. This means that your development, engineering, or product team must spend hours researching all of the APIs necessary for each platform to which you wish to add the API integration. With a unified API integration platform, you can connect to various services via your app with only API call or API Key. This removes the complexity underlying each API and decreases overall development time. Here are some other benefits of a unified API integration platform.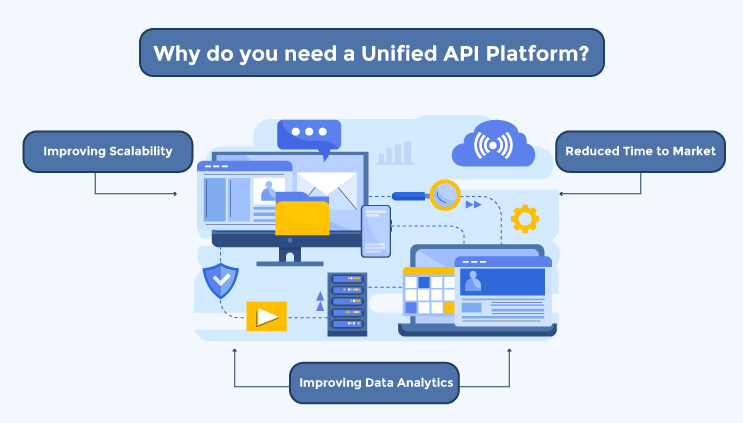 Improving Scalability
Unified API encourages greater flexibility in scaling to meet the company's demands. This also enables firms to develop on the go without worrying about rising integration or maintenance expenses.
Reduced Time to Market
Since unified API enables quicker addition and deletion of APIs, project teams can be more responsive to technological upheavals. As a result, the Unified API acts as an effective pit stop that speeds integration and product delivery to the market.
Improving Data Analytics
Unified APIs are intended to enable and process data from and to consumer contact points into systems using a single medium. This simplified collaboration benefits merchants and organizations that rely on user data as it ensures better analytics and improved personalization for their customers.
Interconnection is the heart of today's information technology-dependent world. As enterprises are beginning to open up and integrate their work processes with the internet, developing a robust integration strategy has become vital. This is where Application Programming Interface (API) comes in. APIs act as worker bees behind every Internet contact, ensuring that data is transmitted efficiently between servers and users. Therefore, businesses must choose to invest in the best API management software to manage technological changes and keep operating costs under control.
There are several issues with one-time API integration. To begin, onboarding requires time and effort. You must do documentation research, learn HTTP methods, and deal with custom objects and fields. You must devise security measures, confirm that the API fulfills all criteria, test the API, and address any issues. By enabling you to use all of your preferred tools simultaneously, this can give you a competitive advantage in the market. Unified API, on the other hand, can handle this steadily increasing complexity of connecting various systems.